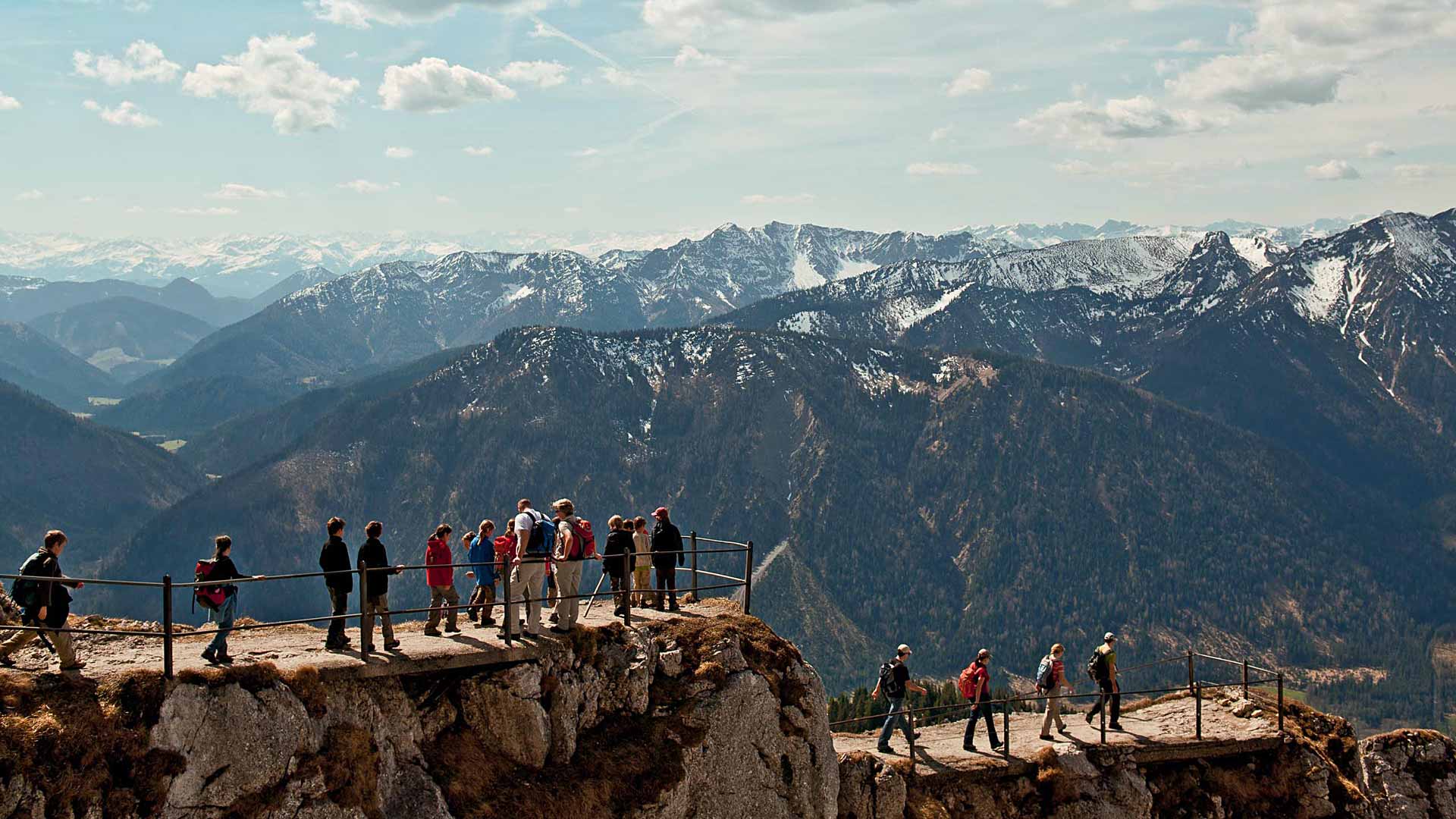 Why you should choose TraceMyTrack:
Best data protection
Is your own data sacred to you?
With TraceMyTrack
it will stay well protected
where it belongs:  your cell phone!
Accurate timeline
Do you want to know how much time you spent
in a place, how fast and how far up you moved?
TraceMyTrack indicates it to you –
at any point on your track.
Economical battery consumption
Do you only want to track, or also surf,
take pictures, and chat on the go?
TraceMyTrack gives you
enough battery for everything!
Cool track story function
Do you want to share your track with others?
With TraceMyTrack you can create storycards
and send them via messenger,
or post them on social media.
You can find TraceMyTrack in your App Store!
Why TraceMyTrack PRO is worth for you:
No Advertising
Number of recordable tracks
5
Unlimited
Unlimited exporting and sharing of tracks
Automatic insertion of photos into your tracks
Preview photos, tags, and comments on the map
Create, post, and share track stories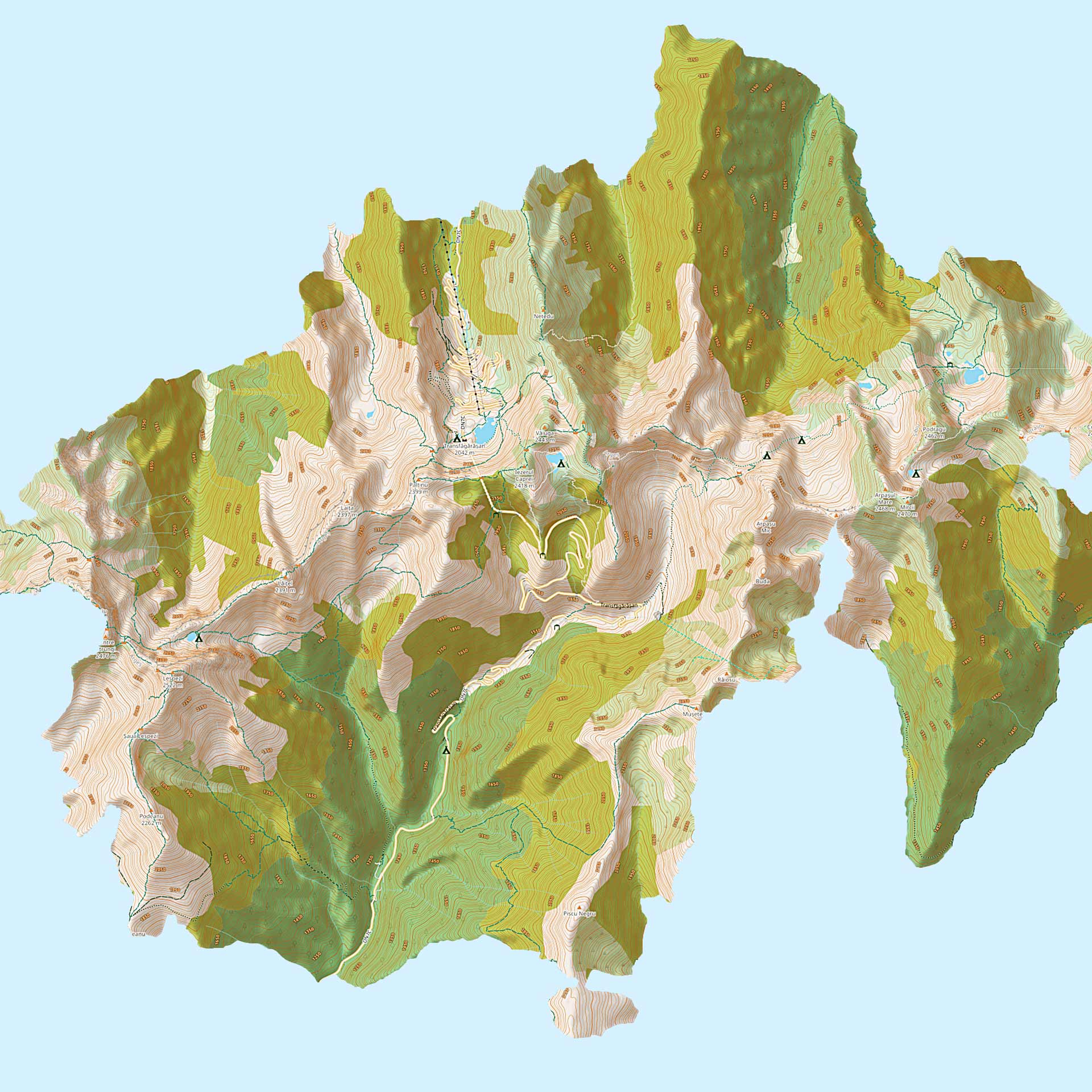 TraceMyTrack – the important features at one glance:
During the recording you can already mark great points as favorite spots. Of course, you can also do this later in your finished tracks.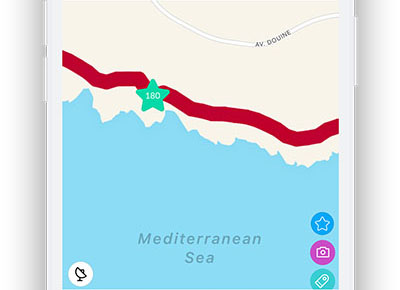 Automatically insert photos and videos
If you activate this setting, your photos will automatically be inserted at the positions in the track where you took them.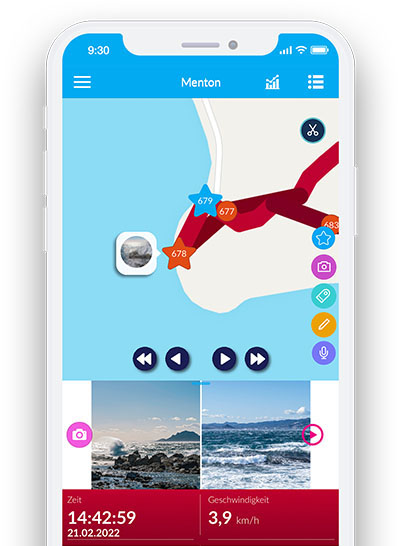 Whether it is a short note or a detailed description, you can tag, comment, or even add voice memos at any point in your track.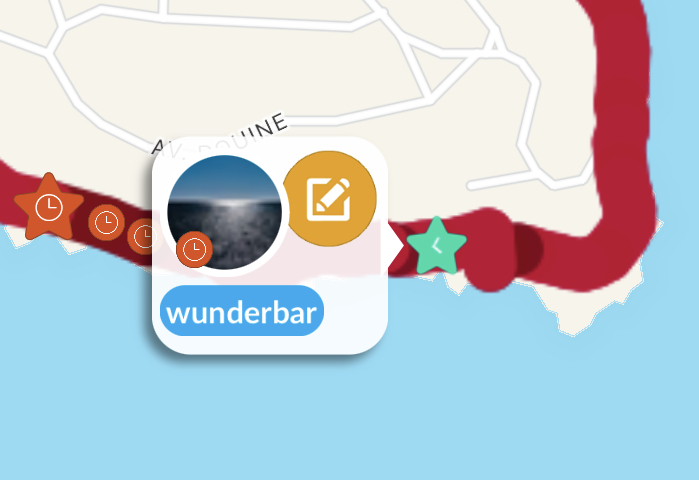 Automatically create stationary points
Every point you stop at is automatically marked in red. In the corresponding detail view you can see exactly when you arrived there and when you moved further.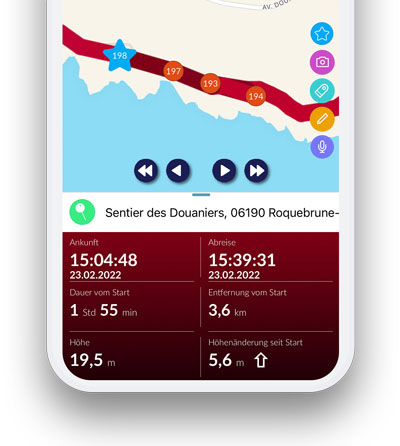 Click back and forth between statistics
Interesting statistical information about your tracks is arranged in clear small panels, which you can click on and off as you like.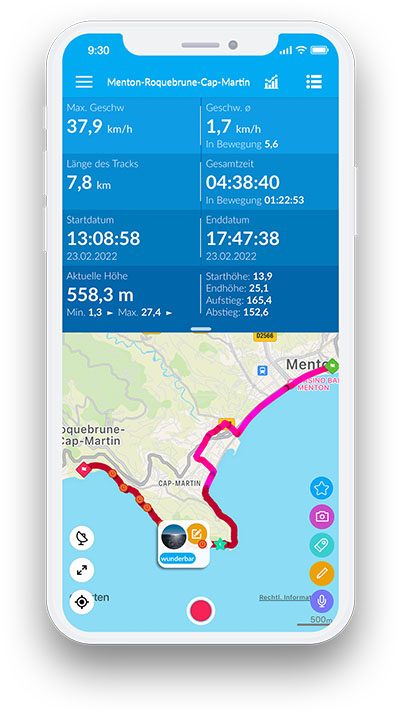 Evaluate tracks with the timeline
In the timeline, your entire track is visualizedgraphically, so you can evaluate it later at your leisure. For each track point or section, you will find a lot of exciting information.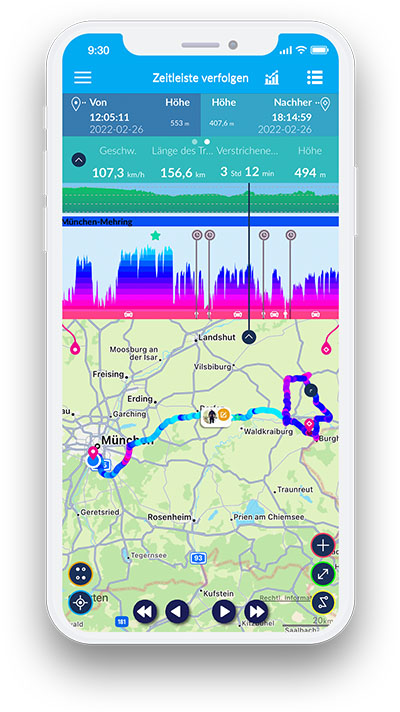 Create, post, and share your track story
You can create a story in the form of a map using the best photos and most important information about your track. You can share it via messenger or post it on social media.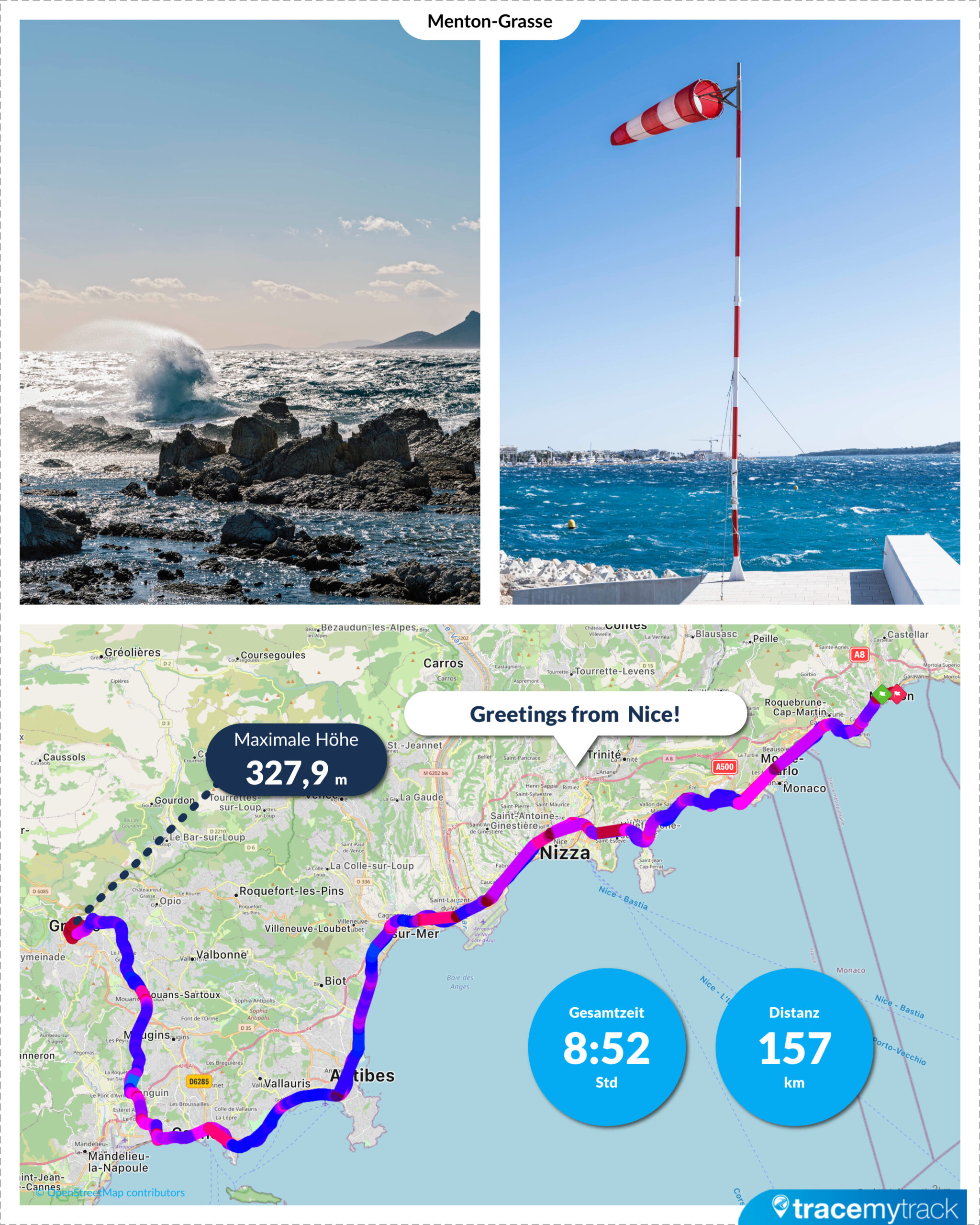 You can export your favorite tracks as TraceMyTrack file, .gpx, .kml, .kmz or .csv and send them to your friends via email. You can also import tracks from other users.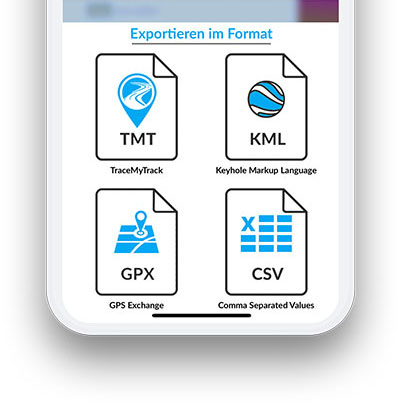 You can use any of your tracks later as a guide or signpost. Of course, this also works with other tracks that you have imported before.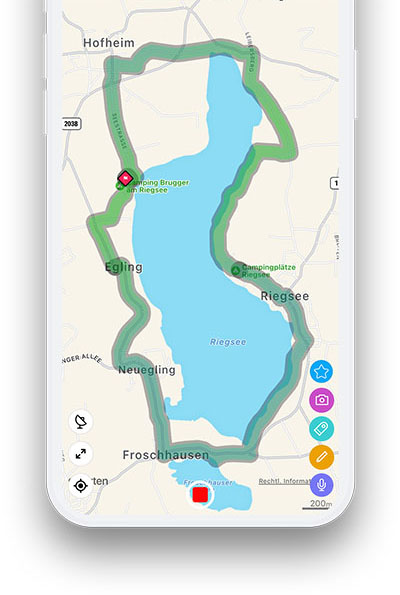 Did you missed the start or end of your tour? You can easily add missing track points, delete, or move superfluous points and add the correct time to points afterwards. Tracks can also be separated or merged into subtracks.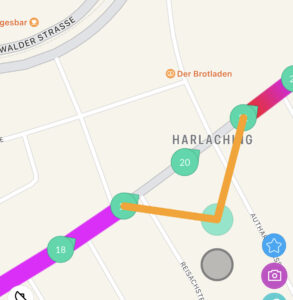 You can download maps to your device and then use them in offline mode – this is especially useful when you don't have internet.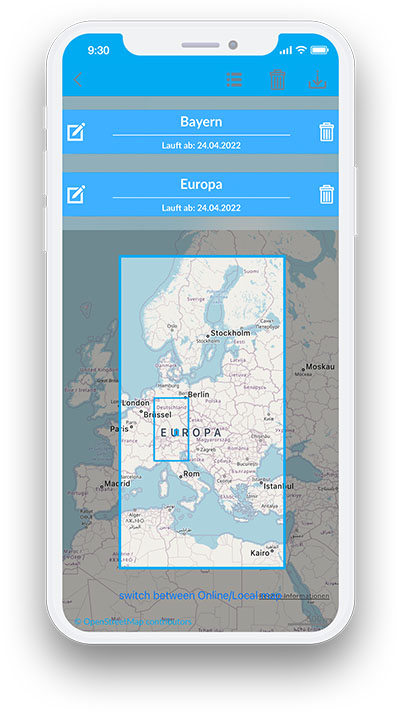 With the help of the geofence function you can define areas on the map that should be excluded from the recording or drawn as only one point.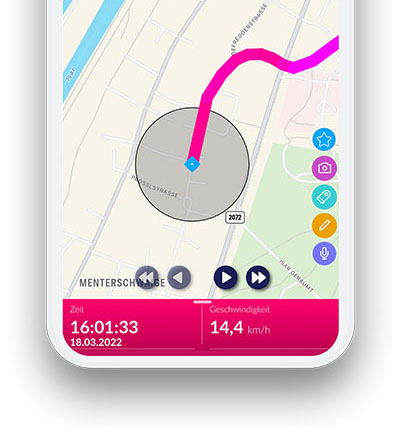 Control battery consumption with activity profiles
TraceMyTrack saves your battery. But you can control the power consumption even further by choosing your activity profile. For example, you can choose a more detailed profile for a sporting activity, or one that saves energy for a longer trip.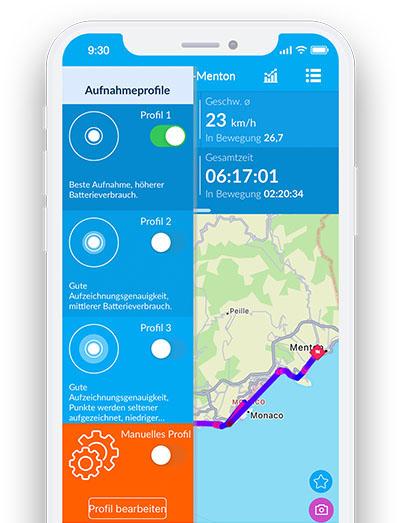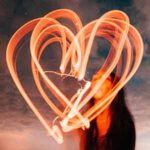 "It's cool that the app automatically places
my photos in the right place in the track –
in this way a digital documentation of my
trip is created by itself."

Paul, 26, Traveljunkie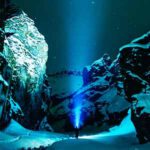 "In the timeline, I can see exactly how long it took me to ascend or descend my Bergtour.
That helps me enormously with planning!"
Markus, 52, Mountain Freak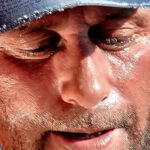 "The stationary points show me
when and how long I was
at customer's, which is very
practical for me as a self-employed house painter! "

Marek, 46, Workaholic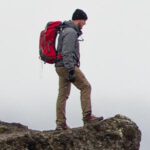 "Whenever I see something beautiful on the road,
I immediately mark it as a favorite spot.
That way, afterwards, I still know where it was."
Felix, 28, Nature Lover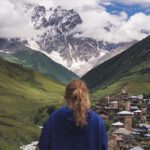 "I really enjoy the track stories with photos and information from my tour.
I share them with my friends right afterwards!"
Sibel, 31, Social Media Lover